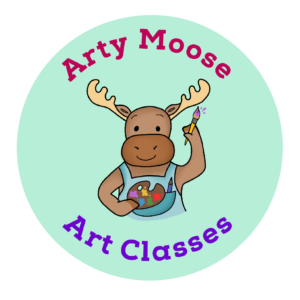 To apply for a place to attend Arty Moose art classes the Parent/Guardian must agree to these Terms & Conditions and submit an application form online.
Payment must be made in advance to guarantee a place on one of our courses/workshops.
Payment

We accept payments by bank transfer. An invoice will be sent with due dates for payments.
Payment confirms your acceptance of the terms and conditions. The named person on the booking confirmation accepts the conditions on behalf of all on the booking form.

Booking Alterations / Late Bookings
For class bookings, alterations can only ever be accepted subject to availability and with a minimum of 7 days notice before your child is due to attend.

Cancellations / Refund Policy

It is not Arty Moose policy to issue a refund for a child's inability to attend a class for any reason.
If a child becomes unwell, tests positive for Covid-19, shows symptoms of Covid-19 or has been in contact with someone who has symptoms, the student is not permitted to join the class. In this case, no refund will be issued. Should a child be unable to attend their place at an Arty Moose class due to self-isolation, it is not our policy to issue a refund.

If a national or local lockdown is announced, or government guidelines are changed and the classes cannot continue in person, a credit note will be issued towards classes resuming at a future date.
In the event, that a member of staff becomes unwell/tests positive for Covid-19 and prevents them from teaching and Arty Moose has to cancel a class we will credit each participant for the resulting time missed.
Should a credit note be issued it will be valid for a period of 12 months from the date of issue.

Lost Property

Please ensure that children do not bring valuables when attending our classes. Arty Moose cannot be held responsible if they go missing. We cannot guarantee the return of lost property but will endeavour to return items where possible.
If property is left unclaimed after a period of six weeks Arty Moose may distribute the lost property to local charities or dispose of it otherwise.
Photography

From time to time we take photographs at our classes which may be used for marketing and promotional purposes. You will be asked to provide consent (or not) for your child's photographs to be used in this way when filling in the application form. You can change your consent setting at any time by emailing gillian@artymoose.com.

Medical Information
In order to care for your child in the best possible way and for their own safety and wellbeing, Arty Moose require parents to provide full information on any relevant medical conditions, allergies, additional needs and dietary restrictions.
You will be asked to provide the relevant information when completing your application form.
Any changes to circumstances can be made either by informing staff in writing when dropping off your child or by emailing gillian@artymoose.com.
Arty Moose reserve the right to exclude children from Arty Moose classes, for whom full information, as described above has not been provided. It is your responsibility to ensure we hold the correct information at all times and we reserve the right to cancel a booking at any time where there has been a failure to provide said information. No refund or credit will be issued in those circumstances.
Safeguarding

Arty Moose staff have a duty to respond if they suspect a child in their care may be suffering from abuse or if a child makes a disclosure about abuse. In this event the relevant staff will follow the Safeguarding Policy as detailed in our policies and procedures.
Liability

Arty Moose does not accept liability for personal injury or death of any participants unless directly caused by the proven negligence of the company or its servants.
Insurance
All children in our care are covered by our Public Liability Insurance, of which details are available upon request.

Exclusion and Suspension
Arty Moose reserves the right to exclude, suspend or refuse a child without notice if we consider that their presence compromises the good atmosphere of the class. Transport home will be the responsibility of the parent and no refund or credit will be issued.
Programme Changes
Arty Moose reserves the right to amend its services and activity programme, content, times, dates and venue in the event of unsuitable weather conditions, failure of equipment, building faults or any other operational faults that may arise from time to time, without refund or compensation to the customer.
Policies And Procedures

Copies of Arty Moose policies and procedures are available on our website:
www.artymoose.com

Enforced Venue Closure

If any Arty Moose venue is forced to close due to the compulsory closure of its premises by order of a competent authority (e.g. School, Local Authority, Environmental Health) due to bad weather (e.g. snow, ice, flood), outbreak of a human infectious or contagious condition (e.g. influenza, meningitis, Covid-19), Industrial Action (teaching strike) or for any other reason, customers will still be liable for any fees due or paid, during the entire period of closure.
Should a child be unable to attend their place at Arty Moose due to this closure, we will do our best to reschedule the class. If this is not possible, a credit note may be issued for use on future Arty Moose classes.
Complaints

Arty Moose endeavour to provide high quality art classes and we are always looking to improve our services. If you or your child are not entirely satisfied with the service we have provided, we would like to know. Any complaint should first be made to Gillian at Arty Moose who will do everything possible towards quick and effective resolution.
Data Protection

Arty Moose is committed to safeguarding your privacy, protecting your rights and freedoms as a data subject, and safely and securely processing your data in accordance with all our legal obligations and in accordance with our Privacy Policy.
Terms and Conditions adopted by Arty Moose date: 30-03-22